Real estate & management of corporate sites
Architects, real estate & urban project developers, managers of corporate sites, infrastructure and roads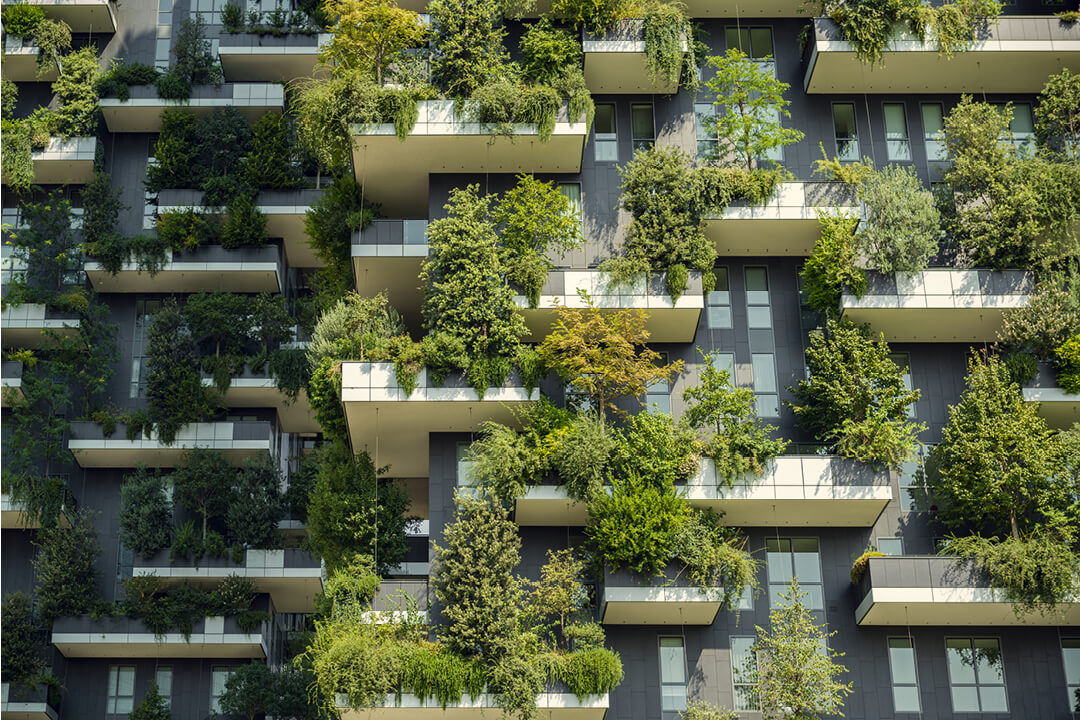 Integrating biodiversity with developments.
Indicators that aid the decision-making process and commitment from the local community.
Amenities that contribute to the well-being of the residents or the local community.
Audits and measures to obtain permits, labels, certification.
Reducing the risk of objections because of the development's negative impact (e.g.: heavy metals released by digging, invasive plants…).
Controlling and limiting the use of pesticides in site management.
Ecological innovations and differentiation, in particular in the context of calls for tenders and competitions.
Easier to obtain permits or labels (ISO, BREEAM…) thanks to innovation that has a positive ecological impact and integration of the local communities.
Coherence between an overall environmental strategy and site management that showcases this strategy.
Attractive real estate and urban developments and well-being for the residents.
Indicators that make it possible to make targeted environmental decisions and, hence, reduce costs.
Indicators that allow you to show the positive impact of your project on the environment (e.g.: evolution of species, invasive species…).
Monitoring
Environmental classification of sites and risks by means of mapping tools at a reduced fee.
Ecological site survey and audit of the management practices used at the site.
An analysis of the environment (pollution, pesticides, plant species) across wide areas with the help of bees to measure the positive impact of the landscaping and sharing of data with the local stakeholders, in particular the municipalities.
Advice and simulation
Conceptualisation of landscape designs that aid biodiversity and the well-being of the community.
Biophilic design to increase occupant connectivity to nature so as to foster well-being.
R&D on/of ecological innovations (e.g.: reducing noise or pollution with the help of green walls).
Measures
Delegated project management of amenities that enhance biodiversity and activities for stakeholders.
Landscaping (indoor or outdoor) that combines the benefits of plants (colours, scent…) with design (more movement, views…) to allow people to recover faster, improve their concentration and reduce the risks of stress or burnout.
CSR facilities (corporate vegetable gardens, the installation and management of bug hotels and beehives…).
Our projects in this sector
To change tomorrow, contact us today
Want to halt the loss of biodiversity and create value? Do you have an idea or do you want to find out more about our approach and our services ?
Complete the form below and we will get back to you as soon as possible.
BeeOdiversity develops projects in several European countries, Switzerland and the United States. Its tools and services can be used the world over.
To contact us from Belgium and abroad : +32 2 428 00 82
Head office : Avenue des Ajoncs 25 - 1150 Brussels (Belgium)
Operating office : Chaussée de Namur 143 - 1402 Thines (Belgium)
Contact number in France : +33 6 21 76 65 75 
Station F - 5 Parvis Alan Turing Paris 13ème (France)
Like the idea of working with us ?