Biodiversity at the service of the real estate sector
Real estate, as a player in the ecological transition, has become aware of its responsibility in terms of ecological footprint. Today still dominated by mineral surfaces, it is now time for real estate to be inspired by nature in order to live in symbiosis with its environment. To this end, considering the protection and development of biodiversity when designing and renovating urban areas is a solution that is both sustainable and beneficial.
Buildings at the heart of environmental issues
The sedentarization of the human population was the first major step in the evolution of the concept of habitat. Land use expanded as innovations and population growth took place. The notion of comfort has also greatly evolved, creating specific needs and supplies. Today, real estate is a sector that alters the environment and biodiversity. Indeed, in addition to the impacts related to the destruction of natural habitats, the extraction and manufacture of building materials, real estate represents 37% of energy consumption in developed countries, 40% of CO2 emissions and 40% of waste produced [1].
[1] https://www.cairn.info/revue-innovations-2012-1-page-219.htm#
Biodiversity creates real estate value
Faced with this observation, subsidy and labelling policies have been put in place to promote more sustainable practices in the design and renovation of buildings: insulation premiums, energy performance labels, subsidies for the installation of green roofs, etc. Indeed, this type of development can be both financially attractive and more environmentally friendly.
What role can biodiversity play?
The protection of biodiversity provides many ecosystem services, both in rural and urban areas. These services consist of a material or immaterial benefit that humans derive from these ecosystems. With respect to the real estate sector, these benefits are both societal (improved quality of life, environmental education, mental health benefits, etc.), economical (property valuation, energy savings, thermal performance, attractiveness and loyalty, BREEAM and other certifications, permit procedures, investor requirements, etc.) and ecological (increase in habitats that welcome fauna and flora, reinforcement of green and blue networks, etc.), benefits can also be environmental (improvement of surface permeability, reduction of the urban heat island effect, etc.)[1].
The more abundant the biodiversity, the more numerous and diversified these ecosystem services are, which in turn improves the value of your property!
[1] LUONGO Sébastien, « Amélioration des critères de performance des bâtiments durables par l'intégration des services écosystémiques », Université de Liège, 2020.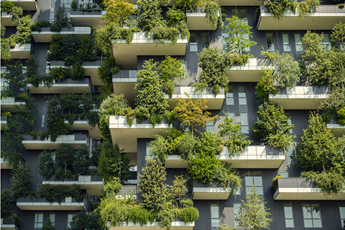 Protecting biodiversity through buildings and improving buildings through biodiversity is possible!
Each real estate structure can be associated with a set of solutions that protect or enhance the inclusion of biodiversity in inhabited areas. BeeOdiversity puts its expertise to the service of real estate by advising on the implementation of solutions. To do so, BeeOdiversity provides data and measurements related to the biodiversity of the site and its vicinity in order to include the biodiversity project in the local ecosystem. Then, its experts conceptualize an innovative and customized biodiversity project. BeeOdiversity guides you until the realization of the project.
These projects are adapted to the specific needs of the client: whether to improve the concentration or reduce the stress of employees, to develop synergies between biodiversity and the technical needs of buildings, to achieve a Corporate Social Responsibility (CSR) objective or to organize animations. There are many possibilities, as shown by the diversity of projects carried out by BeeOdiversity in this field! To see some of our projects in real estate, please visit our page https://beeodiversity.com/en/our-actions/our-activities-sectors/real-estate/ : obtaining labels and awards for their positive ecological impact, improving the aesthetics of the building, improving the well-being of its occupants, … you will see many positive feedbacks from our customers!
To change tomorrow, contact us today
Want to halt the loss of biodiversity and create value? Do you have an idea or do you want to find out more about our approach and our services ?
Complete the form below and we will get back to you as soon as possible.
BeeOdiversity develops projects in several European countries, Switzerland and the United States. Its tools and services can be used the world over.
To contact us from Belgium and abroad : +32 2 428 00 82
Head office : Avenue des Ajoncs 25 - 1150 Brussels (Belgium)
Operating office : Chaussée de Namur 143 - 1402 Thines (Belgium)
Contact number in France : +33 6 21 76 65 75 
Station F - 5 Parvis Alan Turing Paris 13ème (France)
Like the idea of working with us ?