Combining biodiversity protection, agriculture and energy production?
Agrivoltaism: a sustainable solution
Agrivoltaism is a practice that combines agricultural production with the production of renewable energy. This practice consists in covering crops with adjustable or removable photovoltaic panels. By covering these agricultural productions, the panels protect them from bad weather or from too much sun exposure. This synergy has the great advantage of limiting the artificialization of the soil to install only solar panels.
The benefits of agrivoltaism for future generations
How can we produce enough food to feed the world's ever-growing population, while ensuring the sustainability of agricultural production? The equation seems complex since population growth implies urban expansion at the expense of the agricultural land needed to meet the needs of this population. Parallel to this problem, energy production, still heavily dependent on fossil resources, is one of the main sectors of greenhouse gas emissions. Is it necessary to increase the presence of solar panels in the landscape to the detriment of agricultural land? It is from these various issues that the concept of agrivoltaism was born, which is now spreading around the world to better meet the needs of current and future generations in a sustainable manner.
In addition to protecting crops from bad weather and droughts, solar panels can also act as rainwater gutters. The water harvested will be used to water plants or stored in a reserve well to anticipate droughts. However, it is likely that plants will need less water since they are now effectively protected. Guaranteed savings!
As for the energy produced, it can be used to meet the energy needs of both the farm and households: between 350 and 600 depending on the size of the plot.[1]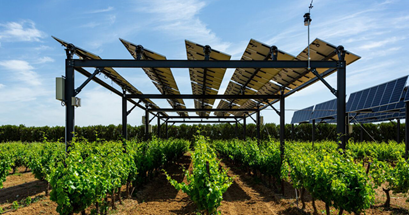 A principle that extends to other practices – BeeOvoltaism
Benefiting from the services of photovoltaic panels in terms of protection and energy production can indeed extend beyond agricultural production. These structures can also benefit livestock meadows: when they are exposed to full sun, animals can suffer from the heat. What could be better than to counter this inconvenience by the presence of solar installations that will bring both shade and energy to agricultural infrastructures?
In the same spirit as agricultural land, why not combine solar panels and green roofs? As the decline in biodiversity in cities is a worrying problem, the installation of reception areas for fauna and flora is essential to mitigate this phenomenon. Green roofs are therefore a solution. In addition, the substrate, the plantations and their evapotranspiration make it possible to improve the efficiency of photovoltaic installations by cooling them in summer, thus avoiding overheating of the devices. Additionally, the panels will increase the lifespan of the roofs by protecting them from solar radiation, bad weather, sudden changes in temperature, etc.[1] Yet another example of symbiosis beneficial to both biodiversity and renewable energy production! Let's create "biodivoltaism" together!
At BeeOdiversity, thanks to our multidisciplinary expertise, we are able to accompany you in the design, installation and monitoring of your agrivoltaic or "biodivoltaic" projects and in general any sustainable agricultural project or biodiversity regeneration. BeeOmonitoring will also allow you to monitor the positive impact of your project for the territory and its stakeholders. Our services are tailor-made to meet your needs and desires.
[1] https://document.environnement.brussels/opac_css/elecfile/IF%20RT%20BATEX%20Fiche4.2.%20Toitures%20FR.pdf
To change tomorrow, contact us today
Want to halt the loss of biodiversity and create value? Do you have an idea or do you want to find out more about our approach and our services ?
Complete the form below and we will get back to you as soon as possible.
BeeOdiversity develops projects in several European countries, Switzerland and the United States. Its tools and services can be used the world over.
To contact us from Belgium and abroad : +32 2 428 00 82
Head office : Avenue des Ajoncs 25 - 1150 Brussels (Belgium)
Operating office : Chaussée de Namur 143 - 1402 Thines (Belgium)
Contact number in France : +33 6 21 76 65 75 
Station F - 5 Parvis Alan Turing Paris 13ème (France)
Like the idea of working with us ?